Now Offering IMAGE SKINCARE Products Shipped to Your Home
The IMAGE Skincare Collection
Chameleon Medical Spa offers a clinically proven skincare line to help you achieve healthy and radiant skin. IMAGE Skincare products were formulated by an aesthetician and a plastic surgeon and are comprised of safe and proven botanicals.
Products Available for Shipping
Skincare Products – Chameleon MediSpa is fully
ready for your skin care needs with medical
grade products that are formulated to
address specific concerns.
To order the products, please call and we will take your payment and ship your order to your home!
Why IMAGE Skincare Products?
Radiant skin is soft, smooth, and even in texture; however, it's common to have skin that feels rough and uneven. This can be due to skin conditions such as rosacea or acne, but it can also be caused by aging, sun damage, or from using irritating skincare products that have damaged the skin.
IMAGE Skincare products are safe and effective for all skin types and tones. IMAGE has the highest quality pure and environmentally sound ingredients, using medical-grade formulas and ethically testing them in clinical settings until they do everything your skin needs them to do.
Ask the skincare professionals at Chameleon Medical Spa what products are best to help you achieve healthy and glowing skin!
IMAGE Skincare Product Lines
The AGELESS Collection – For aging skin
Click to view products. Price Range $32 to $84
IMAGE Skincare's highly effective AGELESS line utilizes AHA blends, nutripeptides, retinols, lightening agents and antioxidants to produce younger-looking skin. Skin that looks older, photo-damaged, pigmented, dull or tired will be rejuvenated with the use of these innovative skin care products.
This effective regimen helps to treat and prevent fine lines, wrinkles and other signs of aging due to environmental exposure.
Ageless | Age Intervention
Total Facial Cleanser: 6 oz $32.00
Total Ant-aging Serum: 1.7 oz $72.00
Total Resurfacing Masque: 2 oz $36.00
Total Eye Lift Crème: 0.5 oz $50.00Total retino-A Crème: 1 oz $72.00
The MAX Stem Cell Neck Lift
Price $76
This ultra-firming neck and décolletage-lifting cream targets sagging and lax skin, deep creases, wrinkles and fine lines. Contains the MAXimum concentration of innovative peptides combined with plant-derived stem cell technology that helps increase elasticity, brightens, tightens and defines the neck and jawline.
Stem Cell Neck Lift: 2 oz $76.00
The VITAL C Collection – For environmentally damaged, sensitive, and redness-prone skin
Click to view products. Price Range $32 to $72
The VITAL C product line is ideal for dry/dehydrated, sensitive and redness-prone skin due to harsh environmental stressors. A rich blend of natural botanicals creates a soothing and healthy way to improve skin. A product line high in antioxidants for ultimate protection and nutrition.
Vital C | Vitamin Power
Hydrating Facial Cleanser: 6 oz $32.00
Hydrating Anti-aging Serum: 1.7 oz $72.00
Hydrating Repair Crème: 2 oz $72.00
Hydrating Enzyme Masque: 2 oz $72.00
Hydrating Eye Recovery Gel: 0.5 $50.00
Hydrating Hand and Body Lotion: 6 oz $36.00
Hydrating Overnight Masque: 2 oz $58.00
The MAX™ Collection - Formulated for correction, prevention and nutrition
Click to view products. Price Range $32 to $100
IMAGE Skincare's latest advancement in anti-aging. This exclusive line supports skin's natural defense mechanisms and repairs cellular damage. It delivers unsurpassed preventative measures against the effects of aging with unique blend of plant-derived stem cell technology and nutripeptides to help plump your skin.
The MAX™ employs IMAGE's three-phase CPN™ System of Correction, Prevention and Nutrition. Specially formulated pure, active ingredients provide protection at the cellular level against nutritional imbalance, oxidative stress and UV damage. It even repairs DNA.
the MAX | Advanced Age-Defying
Stem Cell Facial Cleanser: 4 oz $32.00
Stem Cell Serum: 1 oz $100.00
Stem Cell Masque: 2 oz $42.00
Stem Cell Eye Creme: 0.5 oz $60.00
The ILUMA Collection – Formulated to lighten, brighten, and illuminate all skin tones for an even, glowing complexion
Click to view products. Price Range $32 to $84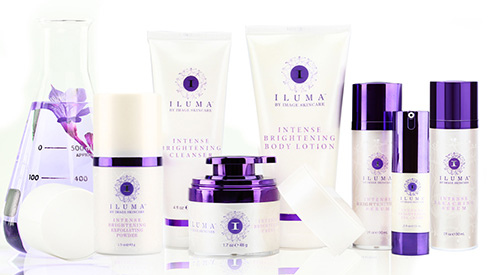 ILUMA contains the next generation of powerful skin lightening ingredients. This collection quickly diminishes all forms of pigmentation, from sun spots to melasma. Formulated by plastic surgeons, this revolutionary intense lighting line utilizes Vectorize-Technology™ to deliver potent encapsulated lightening agents to correct and prevent pigmentation and uneven skin tone.
ILUMA | Professional Skin Tone Solutions
Intense Brightening Cleanser: 4 oz $32.00
Intense Brightening Serum: 1 oz $52.00
Intense Bleaching Serum: 1 oz $52.00
Intense Brightening Creme: 1.7 oz $84.00
Intense Brightening Eye Creme: 0.5 oz $70.00
Intense Brightening Body Lotion: 6 oz $52.00
The PREVENTION+ Collection - Moisturizers with broad-spectrum UVA/UVB sun protection.
Click to view products. Prices $44
IMAGE offers an evolution of moisturizer with built-in broad-spectrum UVA/UVB sun protection. Medical studies confirm that sun, pollution, stress and smoke are the leading cause of skin cancer and accelerated aging. Protect your skin daily with an IMAGE moisturizer formulated for your skin type.
PREVENTION+ | Daily Protector
Daily Hydrating Moisturizer SPF 30+: 3.2 oz $44.00
Daily Matte Moisturizer SPF 32+: 3.2 oz $44.00
Daily Tinted Moisturizer SPF 30+: 3.2 oz $44.00
Daily Ultimate Protection Moisturizer SPF 50: 3.2 oz $44.00
The CLEAR CELL Collection – Formulated for acne and oily skin.
Click to view products. Price Range $32 to $84
A highly effective acne skin care line that utilizes the most effective acne fighting ingredients and potent anti-inflammatory botanicals. CLEAR CELL fights acne, reduces inflammation, reduces excess oil, and purifies skin.
CLEAR CELL | Clean Skin, Healthy Skin
Salicylic Gel Cleanser: 6 oz $32.00
Restoring Serum oil-free: 1 oz $42.00
Medicated Acne Masque: 2 oz $34.00
Salicylic Clarifying Pads 60 pads: $30.00
Clinical Couture Designer Peels
Click to view products. Price Range $22 to $58
IMAGE developed the only peels that can be custom-formulated to match individual skin types. Blend any of our organic Aloe Vera gel-based peel solutions with our I ENHANCE Collection to rejuvenate, lighten smooth wrinkles, detoxify, protect, energize, moisturize or any correcting combination needed for youthful-looking, radiant skin.
Ormedic®️ | Organic Ingredient, Clinical Effectiveness
Balancing Facial Cleanser: 6 oz $32.00
Balancing Anti-oxidant Serum: 1 oz $58.00
Balancing Gel Masque: 2 oz $38.00
Balancing Eye Lift Gel: 0.5 oz $52.00
Balancing Lip Enhancement Complex: 0.25 oz $22.00
The I Beauty Collection – Brow & Lash Enhancement Serum
Price $49
Frame your eyes with lengthier lashes and full, healthy brows with this specialty serum, an intensive blend of peptides, conditioners and plant stem cell extracts that supports healthy follicles and protects against breakage. It enhances short or sparse lashes and brows by visibly improving thickness and length.
Brow and Lash Enhancement Serum: 0.14 oz $49.00
Body Firming and Rejuvenation
Price $75
CELL. U. LIFT Firming Body Lotion: 5 oz $75.00
---
Why Select Chameleon Medical Spa?
Chameleon Medical Spa has been the number one choice for individuals seeking an experienced medical spa practice in the greater DeSoto, TX area.  We pride ourselves on having a patient-focused mindset and providing advanced technologies and services.
We understand that if you feel badly about your body, or are uncomfortable in your skin, you have the right to change that. We have the skills and the experience to help. From consultation to extended care and maintenance of your results, Dr. Albert Boyd and our expert staff will guide you through the process of achieving your aesthetic goals.
Confidence is always attractive, and will never go out of style. Get the face and body that you love and are proud to show. Schedule a consultation at Chameleon Medical Spa to learn how you can non-surgically rejuvenate your skin.